A four part special travel blog about our visit to Hiroshima City. [Music can be controlled below the first photo.]
We had wanted to visit Hiroshima for some time and we finally had the chance in August 2008. Years before we had visited the Arizona Memorial in Pearl Harbor and the Punch Bowl [National Memorial Cemetery of the Pacific] so this trip would symbolize completing a set of "bookends" for us - the beginning and ending actions of the war between our countries (Nagasaki will have to be another trip).
August 6th marked the anniversary of the atomic bombing of Hiroshima, of course, and in the Buddhist traditions, August is also the time of Obon, when those who have passed before us are celebrated with music, dance, flowers, incense, and prayers. As a lot of people in Japan have time off for Obon, many millions travel to their home town to visit family, choking highways, airports and railway stations. Happily, this year we had time near the latter part of the month, after the Obon rush, so decided to go.
Our vacation took us on a four day and three night adventure to Hiroshima City and nearby Miyajima - the island famous around the world for the "floating" torii (gate) of Itsukushima Shrine.
The title of these posts, "Dai Hiroshima Ondo", is the title of a favorite bon dance of mine, the lyrics of which say "come to Hiroshima and dance", describe the Inland Sea as calm in the morning, with bountiful seafood, and so on. After that it says "seeds from the ashes grew", became green, and Hiroshima became the symbol of peace.
Getting there is half the fun....
Well, maybe not quite, but it can be fun. In planning this trip we had to decide on whether to fly or take the Shinkansen train. Hiroshima is over 700 km (435 miles) as the crow flies from where we live. An airliner is obviously a lot faster than a train, however there are other considerations. For example, there are bullet trains leaving Tokyo station every several minutes, while there are far fewer flights. One also needs to get to the airport with enough extra time to go through the security rigmarole and check in and boarding procedures, not mention waiting for baggage at the destination. Another factor is the location of airports. The airport we would use is Haneda, near Tokyo, so from this end there is not much difference in terms of the express bus time, but Hiroshima airport is 45 minutes out of town whereas the train station is right in the heart of the city.
Add it all up and it turns out that the Nozomi Super Express Shinkansen is almost as fast "door to door" as flying, and without the security hassles, schedule restrictions, cramped seating, and possible turbulence. K booked us reserved coach seats on the train.
K demonstrates the legroom on the Nozomi 700 Shinkansen (if you are with a group, you can turn one set of seats around for club seating).
On the day, we got to Tokyo station with time to spare, so K switched our reservation to an earlier train. A little too early perhaps, as we had to hustle to catch it. The Nozomi Shinkansen consists of 16 cars and is about 1/4 of a mile long. To walk from one end to another takes about 5 minutes. If you are catching a train along the Shinkansen route, you'd better be waiting in the right spot, as the train will only be in the station for 2 minutes. In our case, we had to walk from the rear of the train to car number four and we made the train with at least a minute to spare.
An aside: for the foreign tourist, I highly recommend getting a
Japan Rail Pass
. You have to buy it before you arrive. Your travel agent will give a receipt which you exchange for the pass after you arrive in Japan. Good for one or two weeks, the pass is good on regular Shinkansen (not the Nozomi higher speed ones) as well as all JR trains and many subway lines. The JR companies operate all the Shinkansen lines and about 70% of all trains in Japan. You can't go wrong. With a pass, you won't have a reserved seat (you can reserve a seat for an extra fee), but you can get on or off at any station and unless you are traveling at a peak time, you probably won't need a reservation anyway. So, let's say you are staying in Kyoto. You can get on a bullet train for Himeji, see the famous castle there, then get on another train to Hiroshima, take in the Peace Park, have dinner, and get back to Kyoto the same evening.
Pulling out of Tokyo Station, the bullet train is limited to 100 kph until well outside of Tokyo (for noise abatement), then picks up speed and along some stretches reaches 270 kph. With only 8 stops, the Super Express makes Hiroshima in just over 4 hours. Once again, clouds kept Mt. Fuji hidden from our view, but other interesting sights revealed themselves. Glimpses of the ocean, rivers, valleys of tea and rice and farm houses, castles, cities, school children on bicycles - flashing by as if you are watching a fast paced slide show. Capturing them at 270 kph isn't always easy and I often ended up with a picture of a bridge girder or the beginning of a tunnel.
Tea and rice.
Bridge at Hamanako Lake in Shizuoka Prefecture
Fields near Nagoya
The roofs of the Nishi Honganji (Buddhist temple, just right of center) built in 1591, amid the modern skyline of Kyoto.
The 57-meter tall, five-story pagoda of Kyoto's Toji temple. Rebuilt in 1643, this pagoda is also the tallest of all wooden towers in Japan.
Rail yard full of various models of Shinkansen trains. Drag race? Gentlemen, start your engines!
Most stops are just 2 minutes. At Osaka it's a bit longer as there is a crew change. Osaka is where JR Central meets JR West, which are separate subsidiaries of Japan Railways. You stay on the same train, just see a different color of uniforms on the people operating the train and serving the passengers.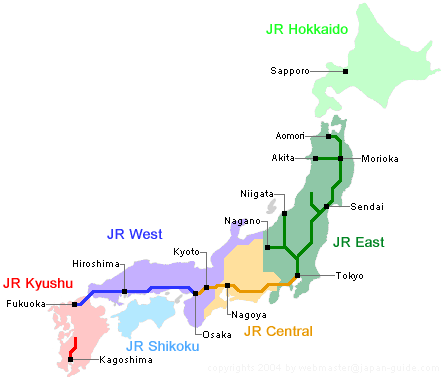 For lunch on the train, obento with a bottle of cool oolong, barley, or green tea is always good. A woman with a cart will come by from time to time offering such items. There are also vending machines in designated cars.
Upon arriving in Hiroshima, we bought 2 day "Miyajima Free Passes" for ¥2000 which gave us unlimited use of the street cars, ferry to Miyajima Island, and the ropeways of that island's Mt. Misen. As the ropeway alone is ¥1800 yen, if you plan on visiting Mt. Misen (recommended), the pass almost pays for itself on that alone.
Hiroshima with its street cars and buses. Street cars were crucial to the rescue efforts in the city after the atomic bombing. The street cars of the day were made of wood, so most were burned to char by the bomb, along with the passengers in them, but three functional cars survived. Tracks were cleared and the 3 cars were running within days of the bombing. I found that as we vacationed and had fun in Hiroshima, even while doing the most simple things like riding on public transport, the thought of what it was like on August 6, 1945 was always present in my mind.
Some of the street cars are brand new and rather than one small car, consist of five segments hooked together with articulated connections. Called "the Green Mover", they feature wheelchair access as well. Miss the street car? No worries - another will be along in seven minutes.
On one trip, an empty 12 passenger high school van pulled up alongside of us at a stop, then atempted a right turn in front of the streetcar. Unfortunately for the van driver, we were already moving and the van and front of the streetcar met. No injuries, thankfully, and only minor damage to the vehicles, but it caused several minutes delay and undoubtedly the driver of the streetcar was not happy to have his new machine bruised and have to file a report.
A few blocks on foot from our street car stop and we arrived at our accommodations - the ryokan Sera Bekkan. If you visit Japan, I hope you will plan to spend at least one night in a ryokan, which are the traditional Japanese guest houses. They do cost more than a hotel, but give a lot more service and usually include one or more meals. They often have a large bath to relax in at the end of the day. For some excellent choices throughout Japan, in a range of prices, visit this website (in English):
Japan Guest Houses
We have stayed in a ryokan in a rural area, which was very old and traditional and basically like a large house. Being in the city, the Sera Bekkan is more of a ryokan-hotel, with hotel lobby, elevator and a so on, but with Japanese style rooms. It is not a new building, but they have maintained it well and we had new tatami flooring in our room, which opened onto a terrace with a lovely garden. Ryokan offer a relaxed atmosphere and guests may walk around the premises in the provided yukata (cotton robe) and slippers. In the day, the room features a table with zabuton to sit on and also a narrow outer anteroom, separated with shoji, by the window with western style chairs and a small table. While you are out dinning, the maid will move the table and zabuton out of the way and make up your futons for sleep.
Sera Bekkan is located just a few blocks from the Peace Park and there are lots of restaurants and shops in the area. The ryokan offers meal plans with breakfast served in a dining room downstairs and dinners served in the room. As I had planned our dinners ahead of time we chose a breakfast only plan with Japanese style food [western breakfast (yawn) is also available]. We enjoyed the fact that the meals got more elaborate each day. The food was excellent. The staff are wonderful and really make one feel welcomed and at home. Needless to say we really enjoyed our stay.
After we got settled and rested a for bit, we headed for the Peace Park ... next post.
つづく (to be continued)
HERE
Until then, sweet sailing.